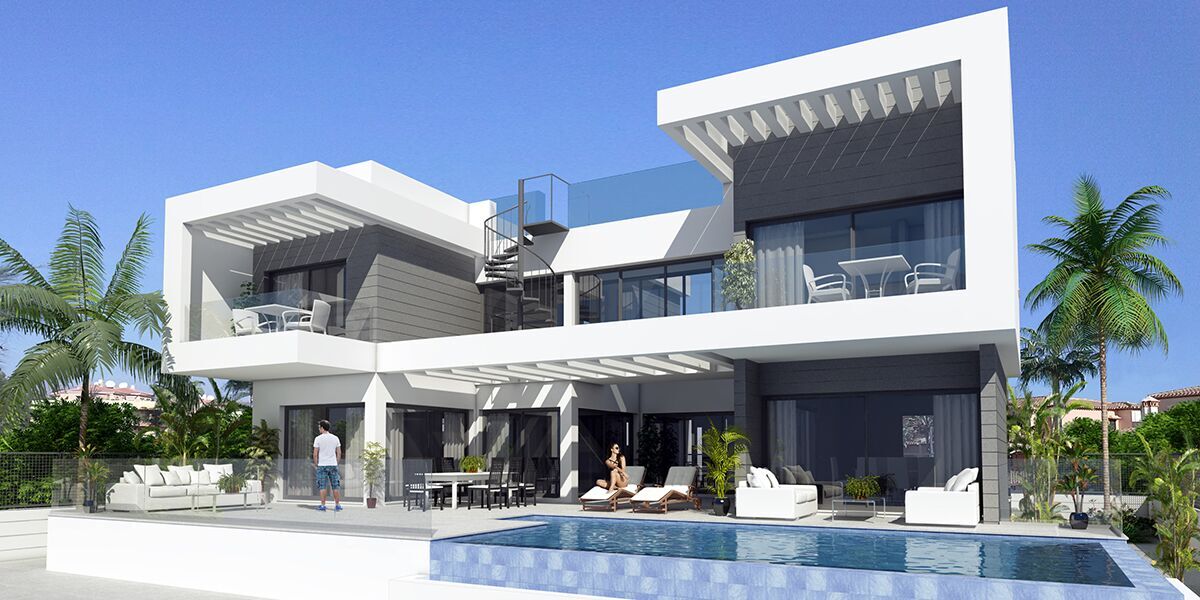 New Build Villa
Including Plot & Swimming Pool
Reputable long established Construction Company of over 20 years standing that create bespoke living environments through a team of renowned architects, engineers & builders.
Thoughtful villa design's that match a lifestyle, whilst maintaining a balance with nature.
A comfortable, healthier living space.
These projects provide flexibility from the interior and exterior layout, through to the finishes. Each villa takes full advantage of the plot selected by you the client. Timeless homes where the architecture pays careful consideration to the environment through design and functionality.
10 Steps to an Off Plan Bespoke New Build Villa
Interactive design process through to "key in hand" Only 8 Months build time from license.
1. Introduction
A meeting with the builders who will explain in detail the unique build method and qualities highlighting the benefits of building an energy efficient home that meets all of your needs no matter how insignificant they maybe demonstrating the premium build standard on offer. The ball is rolling.
2. Location
The next step is to decide where you would like to live. With numerous plots known to us up and down the Coast we can visit desired areas with you. If we don't have one which is suitable, we shall find you one! Equally if you already have your eye on one, we can work with that too.
Plot or area decided – Let's get designing.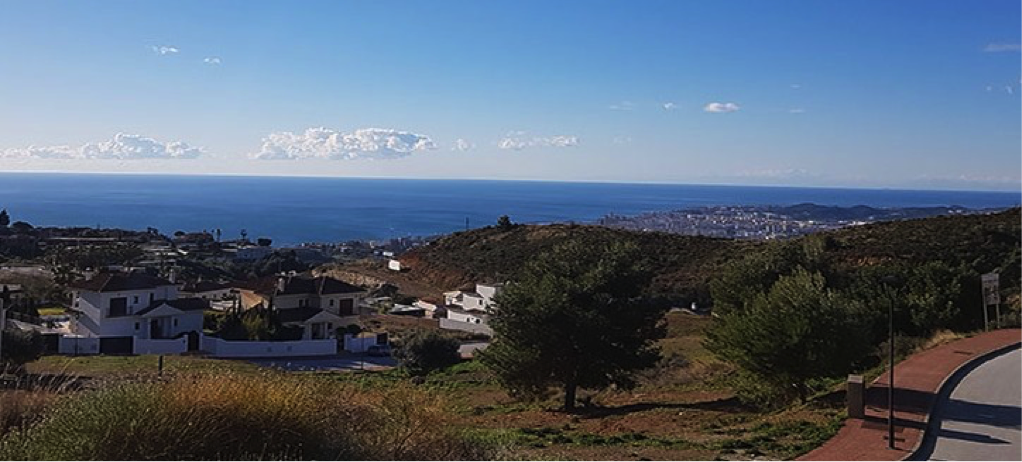 3. A meeting with the Architect
There are few limitations to the design, once you express your needs, desires, likes and dislikes, views & examples of villa designs. Then it's up to you to make an informed decision based on your budget. Our architect will advise on the best orientation of the villa on the chosen plot and will work closely alongside you to ……… design the dream.
4. We get to work
Scale plans are produced to reflect the decisions and requests you have made in accordance to the topographical study of the land and the aforementioned budget. Provisional plans are sent to you for an overview and any changes. The architect will maintain a correspondence with you until ……
the final plans are approved
5. Final Touches
Another meeting with builders to discuss finishing's. A chance for the you to view samples of premium quality, branded finishing's, bathroom fittings, kitchens, tiling & floor coverings etc
Project is personalised.
6. Final price for the project is confirmed and agreed
No hidden extras along the way.
7. A payment plan is arranged and put into action
Flexible terms agreed with the builders according to each individual client.
Usually: Reservation 40%, Issue of License 20%, Payments 10% / 10% / 10%, Completion 10%.
8. Contracts signed
Both parties attend the Notaries.
9. We take care of the rest
You can then sit back and watch your vision materialise. All of the bureaucracy in applying for licenses etc. is taken care of although you'll be kept informed all along the way. Once planning permission has been granted building will commence.
All construction is regularly monitored by external sources (Technical control) to check they conform to regulations and the builders exceptionally high standards.
You will be updated regularly with progress reports, images and videos every step of the way.
10. Keys are handed over to clients
The project is complete, utilities are connected and their beautiful new villa is ready to move into. All that remains is to buy the furniture and enjoy living the dream.
AN INTRODUCTION FROM THE BUILDERS.
We are delighted to offer our clients a fully integrated Design & Building service using high energy efficient construction technology. Our team of renowned architects, engineers and builders lead our clients through an interactive and stress-free journey to deliver dream homes.
Drawing on the experience of development and construction of over 550 residential homes during the last 20 years, the team is now the pioneer in applying 21st century standards and building solutions.
Extensive experience, professionalism and enthusiasm in their work, we have participated in national and international projects as part of multidisciplinary teams, using either traditional building systems or innovative systems.
The construction method has obtained the relevant technical approval from the Spanish authority board, Instituto de Ciencias de la Construcción Eduardo Torroja, the government controlled center for construction methods and materials.
Reinforced concrete building structure.
A thermal-acoustic construction system composed of high resistance structural panels.
The use of these panels in the walls and floors creates an extremely resilient 3 dimensional reinforced concrete structure for use in single home properties or multiple story developments.
The interiors of the steel meshes are filled with an insulative polystyrene component with a pre-calculated density based on each particular construction project.
Our company complies to EHE and CTE norms, and has official technical approvals by the Eduardo Torroja Institute of Construction Science in Spain, as well as in other countries.
Open plan, contemporary homes, with spacious, stylish and rich-in-light interiors.
• Large, floor to ceiling sliding windows allow for the interior areas to merge naturally with the large open terraces and exterior living and entertaining areas.
• High energy efficient homes, via the use of high insulating and robust building methods.
• Top quality tiling throughout the house, bathroom and kitchen fittings are standard.
• All projects are delivered "key in hand", with all professional fees, insurances, utility connections etc. are all included in the individual purchase price.
We have projects in:
Alhaurin, Atalaya, Benahavis, Benalmadena, Buena Vista, Casares, Coin, Duquesa, El Chaparral, El Madronal, El Paraiso, Elviria, Estepona, Jardin Botanico, La Cala de Mijas, La Cala Golf, Los Monteros, Cerros del Aguila, Las Chapas, Las Lomas, Mairena, Manilva, Mijas Costa, Mijas Pueblo, Mijas Golf, Sotogrande, Valtocado.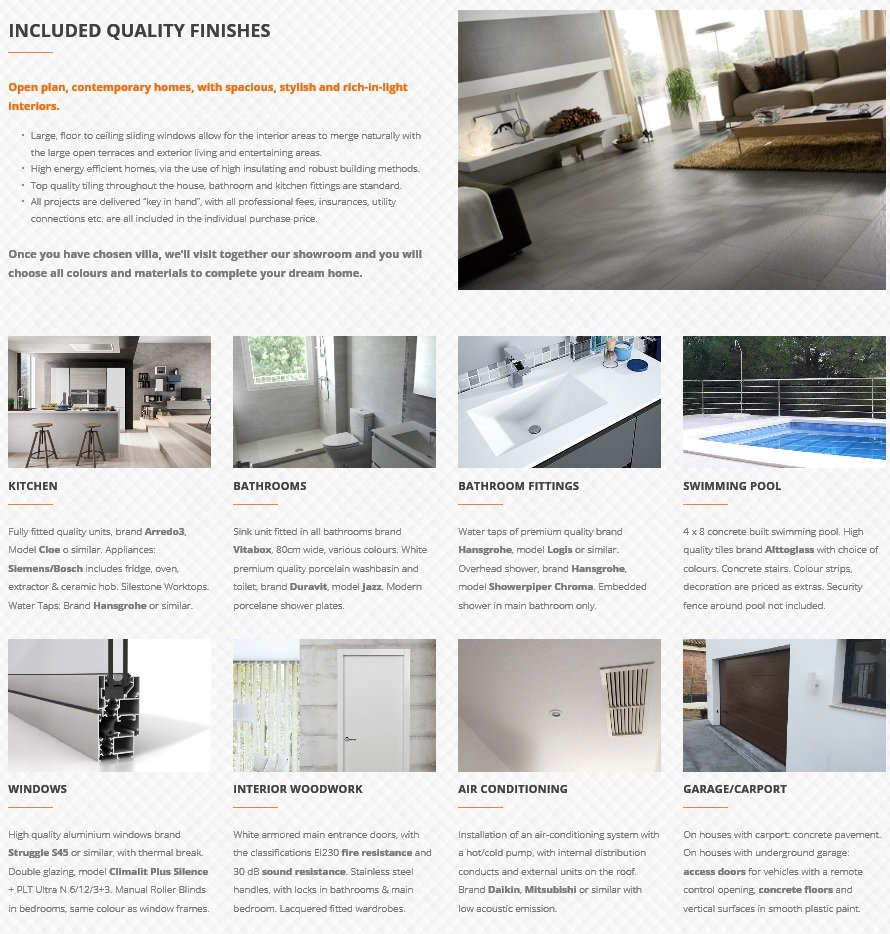 New Build Off Plan Villa Frontline La Noria Golf La Cala de Mijas.
(Pictures taken over the course of the 8 month construction).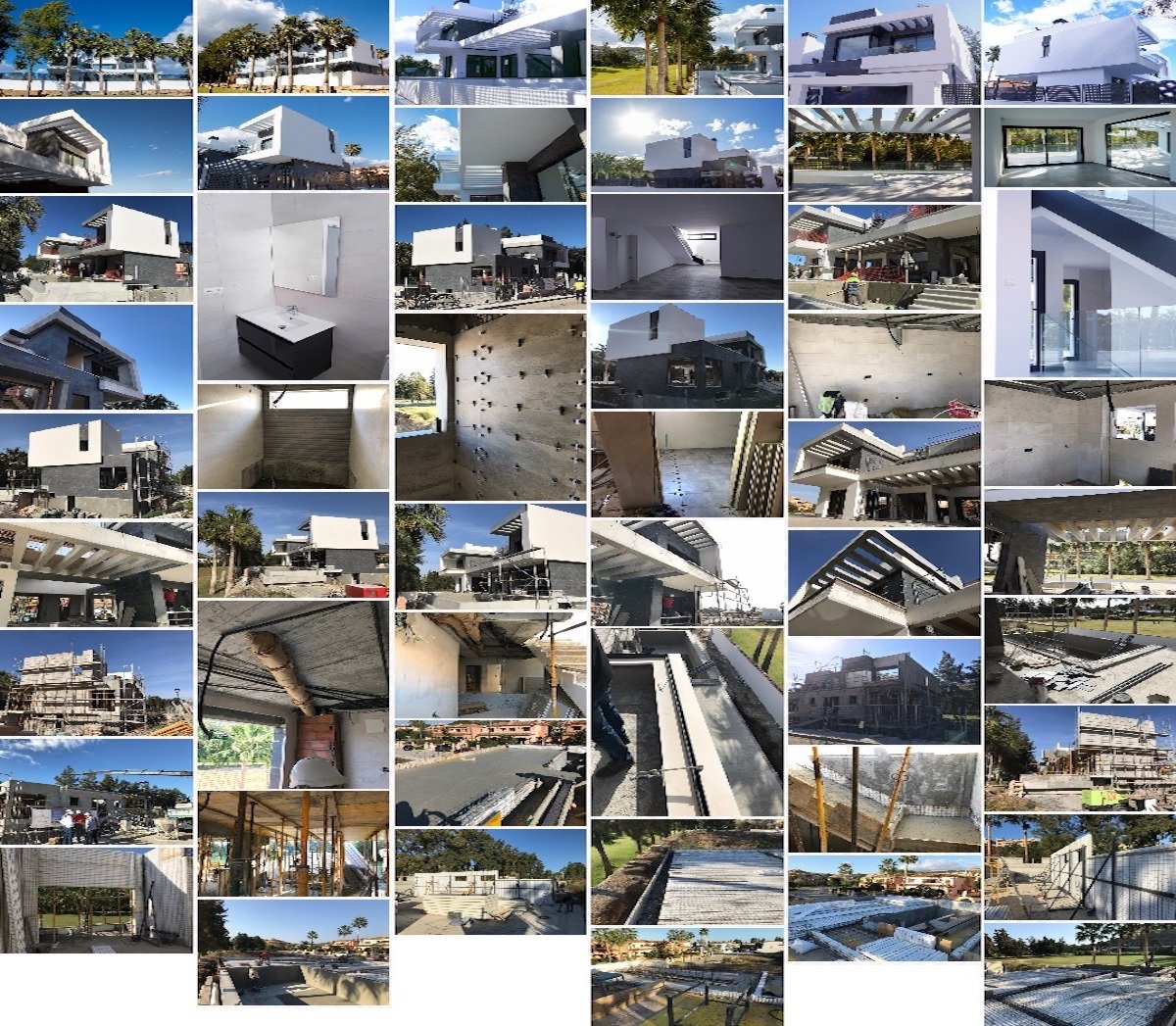 Please complete the form below to request any information on the services we can offer: